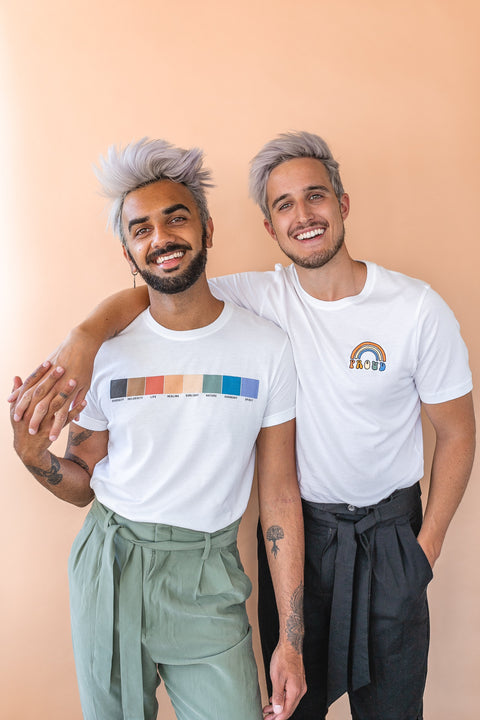 Work Anniversary Message and Gift Ideas for Every Employee
A work anniversary can be a special occasion. It means your team member has committed to your company for another year. They dedicated their time and hard work to helping the business grow, and that should be celebrated. There are many ways to share happy work anniversary messages on this particular day and to give your employee recognition for the effort they put in for the team.
Kotn Supply is here for all your business needs, whether you're supporting your team, growing client outreach, or building a sustainable future. We believe in small-scale production and a one-on-one approach at every stage of the production process. That's why we're excited to share top messages and gifts to show everyone in your company just how much you appreciate their years of service.
Work Anniversary Messages
When it comes to celebrating work anniversaries, it's essential to show your team members that you acknowledge and appreciate their efforts, whether it's their one-year work anniversary with the company or their ten-year work anniversary.
Here, the impact can be significant, even with minimal action on the company's part. It's remarkably simple to put a message in a thoughtful card, but the impact can be extraordinary. Recognition from upper management sets the company culture for how work is recognized.
When writing work anniversary cards for an employee, you want to consider your relationship carefully. Some employee relationships can be quite personal, with their boss or manager serving as a positive role model to help their growth in their professional life.
In other cases, the message may come from someone higher up who maybe doesn't know the employee quite as well. Be sure to personalize the message and the card as well to the person who is receiving it. Inquiring managers and other employees about the intended's accomplishments, impact, and effect on the department can offer that personal touch even with the relationship is more professional in nature. 
Here are a few of our favorite work anniversary messages and ideas: 
Something Simple
You don't have to worry about coming up with the perfect words every time. In many cases, time and recognition are what matters.
That's where a kind and simple message can do the trick: You can wish your team member a happy work anniversary, congrats on their years of success, or thanks for being such a dedicated employee. Even a simple note with "warm wishes" or "good luck" can help to show a person you care and that their work is being seen and appreciated every day. 
Something Heartfelt
If you do know the team member a little better or if you've worked with them for some time, consider writing a note that is more personal or heartfelt if you believe that it would be appreciated.
You can thank them for always bringing positivity and joy to the work environment or for teaching you a new approach to a challenge. Reference the ways in which that employee brings something unique to the company and how you're grateful for all that they do. 
An Acknowledgement of Something Specific
Our team members help us to grow and build our business every day, and there may be specific things or practices they do that can really make a difference. In your next work anniversary message, consider referring to something that really stands out in their work.
This may be a project or assignment for which they've been awarded or simply an account where they've gone above and beyond. Even bringing humor and joy to the workplace is something to be acknowledged and appreciated. 
A Poem or a Quote
Another unique way to say "Thank you for your exemplary work" is with poems or work anniversary quotes. When you use a poem or quote in the anniversary message you share with your team member; you can also tie it back into the ethos of the company.
For instance, if you work in education, you can use a poem about the importance of learning every day and how you learn from them. Poems could include "For Elizabeth Bishop" by Sandra McPherson. However, there's no need to be so specific.
General poems on success work for nearly every industry. Options for inspiration poems include Berton Bradley's "Opportunity" or poems like "Morning Coffee" by Amber Lynn Revis. 
Poems and quotes can be made quite personal, which is another reason they're lovely additions to work anniversary wishes. If you have the ability to handwrite these, that would be an even better option. 
A Personal Story
Don't be afraid to share a personal story, either, if you feel like it's appropriate to the relationship. Work can be a big part of our lives, and we spend a lot of time with our coworkers and employees.
Reference a moment at work when they made you laugh, when they taught you something new or inspired you, or simply made you feel good after a long day. A personal story can be funny, heartfelt, or even bittersweet as long as it makes the employee feel appreciated by you and the whole management team. 
A Reference to the Future
It's natural for employees to feel uncertain about their position in a company, especially as certain big dates come and go. One kind thing to do is reference their future at the company, to the best of your ability, and the projects you hope to work on in the months to come.
While there are always unforeseen circumstances, this can help them to feel settled and secure in their position. And it may even inspire them to come up with new ideas and directions for the team to try out. If you're looking forward to working with this team member in the future, be sure to let them know! They'll certainly appreciate it. 
Work Anniversary Gift Ideas
Work anniversary messages are lovely all on their own, but you may want to consider pairing them with a gift, as well. Gifts are another way to show your team members how essential they are, and you have lots of unique and exciting options to pick from.
Here are just a few employee appreciation gifts they'll love.
Company Swag and Apparel
The options are endless when it comes to company swag. In a lot of cases, swag can be apparel, natural canvas totes, water bottles, and more, and those are useful and fun gifts to receive.
Swag can help to build company camaraderie, as everyone is sharing the same branded pieces. These gifts can help your employee to feel secure and comfortable in their position with the team. Consider creating a basket or box of company swag pieces you know they'll really like. Current corporate swag trends include anything cozy, sustainable, tech-based, or wellness gifts. 
Gift Cards or Memberships
One can never go wrong with gift cards. The best gifts are ones they'll be able to use and appreciate, and gift cards let them pick out the things they like best.
It's also a clever way to customize and personalize a work anniversary gift. If you know they particularly like one restaurant, fashion brand, or coffee shop, consider a gift card that shows them you're paying attention to them as an individual and not just an employee. Wrap it in a cute envelope or box to make it extra special. 
A Gift Basket or Box
Who doesn't like a nice gift basket or gift box? You can purchase pre-made boxes to be delivered with products and goodies you know they'll enjoy, whether that means snacks, flowers, or fresh fruits. If you want to take it a step further, consider creating a personalized gift box that speaks to their personality.
For instance, if they like to do yoga, a new yoga mat, unisex sweatpants, blocks, and straps can be a wonderful way to show you care. Or maybe they love reading, in which case, you can't go wrong with a cozy blanket and the latest best-seller. A work anniversary can be a big deal, and a personalized gift basket shows your team that you understand the importance of their big day.
A Work-From-Home Present
There are many gift options for local employees, but what about your work-from-home members of the team? While they may not be in the office, they should still be recognized for their value as dedicated employees, and a work-from-home gift can be just the trick.
Share a gift card or gift basket with the products they need to make their office space comfortable and functional. New office supplies, or a nice set of coffees and teas, are always welcome. Lastly, since WFH dress codes tend to be far more casual than in-office attire, you can send out customized cozy apparel with the company's logo for a uniform yet relaxed atmosphere on the next client call. 
A Bottle of Wine 
If you know that your team member drinks, you may want to consider gifting them a nice bottle of their preferred wine or liquor. Alcohol is often used to celebrate meaningful occasions, and it's nice to share something they might not otherwise purchase for themselves.
Elevate this gift by adding nice glassware or hardware to make it a set. It's important to remember that not everyone drinks, so make sure to consider the gift recipient before sharing alcohol. 
Flowers are always a classic way to express gratitude. Pick out their favorite flowers or flowers in their favorite color. If you want to take this gift to the next level, consider sharing an elegant or beautiful live plant in a pot you picked out for the occasion. This can also be part of a larger gift themed around sustainability. 
Conclusion
Here at Kotn Supply, we know the importance of building up your team. Each member brings that extra special something to the table, and they should be recognized and appreciated for their great work. When their next employee work anniversary comes around, you can show your employee how integral; they are to the team with anniversary messages and gifts they'll really appreciate.
Profess your gratitude with a simple message, something heartfelt, or even a reference to a personal story or activity you all shared. Include handwritten quotes or poems related to your business and the person for that little extra something. Or, share the message all on its own or pair it with a thoughtful gift, like flowers, a gift box, or a gift card. 
Find the best employee gifts and sustainable apparel ideas here at Kotn Supply, and give your dedicated employees the appreciation they deserve today.
Sources:
How To Become A Positive Role Model For Your Employees | Forbes
A Guide to Managing Your (Newly) Remote Workers | Harvard Business Review
How to Build a Successful Team - Business Guides | The New York Times
20 Inspirational Poems That Will Boost Your Mood | Reader's Digest