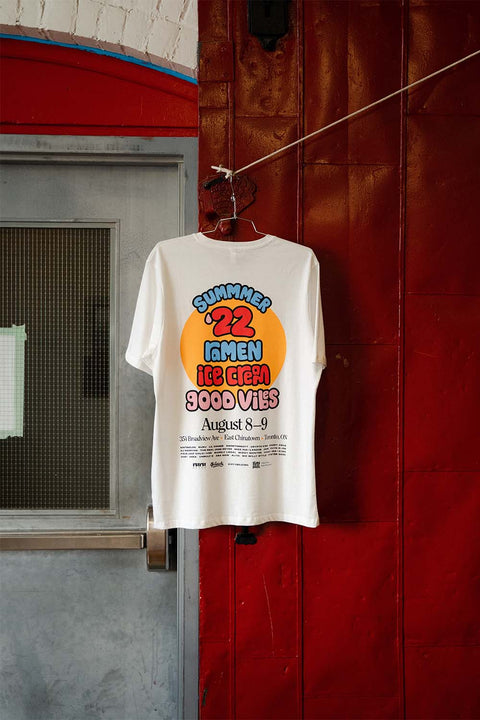 Company Swag Ideas: The Ultimate Buyer's Guide to Company Swag
One of the best ways to promote team pride, onboard new hires, and show your team members how grateful you are for all that they contribute is with company swag. Company swag can be versatile, creative, and useful in many different ways, and the right swag can help your team to achieve their goals in the office and out.
Here at Kotn, we're dedicated to providing sustainable alternatives to the classics, especially when it comes to the clothes your new employees will love. We make it easy to find, order, and customize a curated selection of small-scale products, so that you can support local farmers and give your team employee swag gifts they'll appreciate and enjoy.
Explore some of the fantastic categories and options for swag kits and promotional products with the support of Kotn today. 
Shirts
Shirts are one of the best high-quality items for company gift boxes, in part because they're so easy to customize. You can pick them out in your team's colors, apply your logo or business saying, or even print unique artist designs that represent your brand.
"Shirts" is a broad category — here are some of the specific options that your employees will totally appreciate: 
T-Shirts
A t-shirt is multi-purpose and versatile, making it right at home in a company swag box. When you order a high-quality and comfortable t-shirt for your gift set, like the kind you'll find here at Kotn, you're giving so much more than a shirt. You're telling your employees that you want them to relax outside of work, engage in their favorite outdoor activities or workouts, and feel like they're part of a team.
For more casual work environments or events outside of the office, t-shirts can be useful for showing a collective group and for building brand awareness in a way that stands out. 
Unisex Long Sleeve Shirts
Take all the benefits of the t-shirt to the next level with a long sleeve shirt. Long sleeve shirts are a good option for those colder weather days and environments, and they also offer more space for custom messages and details.
The unisex long-sleeve shirt in our collection comes in three colors and three decoration designs, including embroidery, screen print, and DTG (Direct-to-Garment). That means it's easy to adhere to the company logo in a unique and elegant way and to give your team members a shirt they'll want to wear again and again. 
Sweatshirts
When it comes to sustainability, manufacturing is only part of the puzzle — it also includes thinking about what swag bag items will get used again and again. A safe (and welcome bet) is a high-quality sweatshirt.
Below are a few of the best sweatshirt options. Consider adding these to your swag boxes as a thank-you to the team: 
Unisex Crewneck
Crewneck sweatshirts are always in style. That's because this iconic sweatshirt is cozy and versatile and can be used for anything from movie nights to bonfires on the beach. 
Crewnecks were originally created — and named — for athletes, specifically for the crew team. That means they can hold up against a lot of activity, so they're fantastic for group workouts or trips, outdoor volunteer days, or weekends camping with the team. 
Unisex Hoodies
Who doesn't love a hoodie? They're one of the most comfortable and cozy options on the market and well-suited for everything from chilly winter days to air-conditioned offices.
Hoodies make an especially good gift for remote employees, as it allows them to feel like engaged members of the team without having to get dressed up to work from home. 
Unisex Zip Hoodie
Another cozy option for sweatshirts you can share with new hires and most loyal employees is a hoodie. Hoodies are comfortable and versatile since you'll have numerous design options, thanks to the placement of the zipper.
With the hood, you'll have more space for branding and designs, and hoodies can have different pocket configurations. It's another way to show your team that you support their comfort and convenience outside of work. Just make sure that any branding or logos aren't too high up; they could be obscured by a hanging hood. 
Unisex Quarter-Zip
If you're looking to create a custom swag pack that's a little more elevated for a promotional giveaway, a quarter-zip is a flawless pick. They're made of high-quality material and typically a little more form-fitting, which means they look good and feel good. Whether you're meeting clients out on the green or hiking with the team for a weekend of bonding, a quarter-zip sweatshirt is the kind of quality swag that your employees will use again and again.
Pants
Of course, you'll want to add matching pants to any corporate gifts to give your employee a whole matching set. These are a few of our top picks for trending pants and other bottoms. 
Unisex Sweatpants
Sweatpants are one of the easiest pieces to customize since they have plenty of blank space for adding your company logo and other designs. Our Kotn sweatpants are available in two colors and three design options and are made with 100% long-staple Egyptian cotton.
The brushed fleece interior makes them extra cozy, even on those chilly days. Whether in black or heather grey, they're sure to be a preferred addition to any wardrobe. 
Summer Shorts
Sweatpants are wonderful for the winter, but why not add a summer option to your custom swag kit, as well? You can use comfortable, breathable materials for summer shorts, so employees can wear them at getaways or outdoor group activities. Don't forget to add a matching summer t-shirt option for a complete set!
Eco-Friendly
Eco-friendly and low-impact products are becoming more popular for custom swag boxes, and for a good reason. It's best to give your team gifts that they'll actually be able to use and enjoy again and again, including some of the following eco-friendly pieces.
Tote Bags
Tote bags are top-notch choices for company swag. After all, you have two blank canvases to adorn with your logo and branded materials — literally. The tote bags in our collection are made with natural canvas and decorated with the screen-printing technique.
You can even have these totes customized to certain departments or even the individuals who work within them. Tote bags are handy and versatile and can be used as work bags or for the next grocery store run. They reduce the need for single-use plastic and help reduce the charge for buying plastic bags at grocery stores. 
Water Bottles
You can't go wrong with water bottles when it comes to custom swag, especially if they're made with high-quality and elegant materials like stainless steel. Water bottles are useful in the office and at home.
Reusable water bottles can be a great addition to any office active life initiatives, like step-counting or activity tracking. Like totes, they can help to significantly reduce waste, in this case from disposable plastic water bottles, and your employees are sure to appreciate a gift they can actually use. 
Custom Mugs
Water bottles aren't the only drinkware that can make a difference. Consider adding custom mugs or travel mugs to your corporate gifts. We use mugs every day for our morning coffee, bedtime tea, or even a midnight mug cake.
There are many styles and types of mugs, so it will be a breeze to find ones that fit your brand. Take it to the next level by pairing your custom mug with a nice tea or coffee. Your employees are sure to appreciate the chance to cut down on waste and save money. 
Technology
We're living in the age of technology, which is why it's little wonder that high-tech gear is such a popular addition to corporate gifts.
Here are a few of our favorite high-tech pieces:
Charging Banks
Your team is busy and always on the go. A travel charger will help to keep them boosted and connected when meeting new clients or taking care of important things after the workday has come to a close.
Charging banks are very easy to brand and incredibly useful to use, and you may find that they help to get your company name out there on the regular. As an employee appreciation gift, the functionality and reliability of charging banks can't be beat. 
Headphones
It can be tough to work in a crowded office, but that's where a pair of new company headphones can come in handy. We have more different headphone options to pick from than ever before, which means you're sure to find headphones that fit your budget and company style, and your employees will definitely appreciate using them again and again. 
Fitness Trackers
Want to take your company's fitness goals to the next level? A fitness tracker might be the way to go.
There are several benefits to sharing fitness tech with your team, and you may even want to consider making an activity and fitness box to take it to the next level. Custom fitness trackers show your team members that you're there to support them as they strive to care for themselves and balance work and home. 
Final Thoughts
Picking out the perfect swag items and ideas for online and virtual events doesn't have to be overwhelming. The best presents are practical and functional. They'll keep your team feeling inspired and productive — or at least cozy. You can't go wrong with hoodies and sweatshirts. 
You also can't go wrong with low-impact and sustainable products that can make a difference for the world and for the members of your team. Water bottles and tote bags are just a few of the ways you can reduce your impact.
Another option for sharing products they'll enjoy is to embrace the best of modern technology, with everything from charging banks to headphones to fitness tracking devices and tools.
The KOTN Difference
No matter what your company swag needs may be, you'll find the perfect swag and ideas right here at Kotn. We're dedicated to providing low-impact, high-quality products that come from collaborative efforts with workers who know the land, and we know you and your team are sure to love each specialized item.
Begin enjoying the best in small farming and company branding with support from our team today, and start showing your employees just how much you care tomorrow.
Sources:
'It's Not In My Job Description': 5 Steps To Build Company Pride And A Sense Of Ownership | Forbes
How Managers Can Support Remote Employees | Harvard Business Review