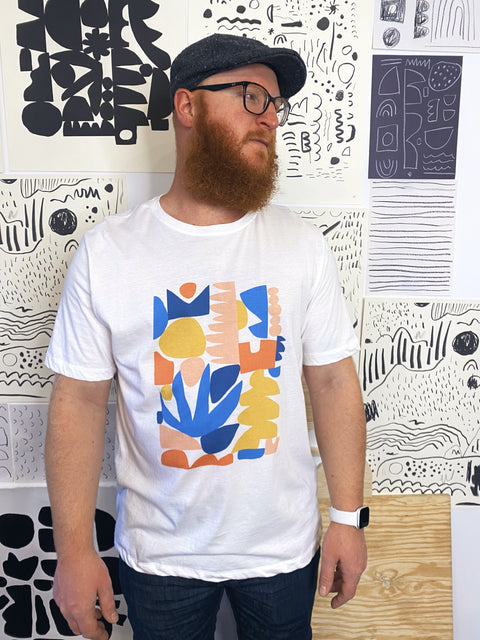 Wholesale Graphic T-Shirts: Buyers Guide to Ordering Wholesale Printed T-Shirts
Graphic T-shirts might be the most timeless form of casual advertisement we have. Whether your business is in food service, tech, music, film, or even something as niche as axe throwing (which could make for a fun company bonding experience), you can't go wrong with a custom graphic tee. It functions both as merch and advertisement — and if you're lucky, your favorite pajama piece. 
Two of the most essential functions of a successful business are a strong team and a strong brand. There are several ways to foster a sense of community within your business, as well as promote a distinct company identity. When your employees feel like they're a part of something special, they're more likely to relate to each other in the workplace. 
One of the easiest (and probably most fun) ways to accomplish branding and bonding is through clothing! And the best part? It doesn't just stop at the company. 
A strong brand entices customers to want in on the camaraderie, too. Special company merch becomes the bridge between the customers and the brand. Mission accomplished. 
Why Wholesale? 
If you're ready to get started on your own custom-printed tees, you'll want to think about buying wholesale. This will immediately streamline and enhance your experience. Continue reading to better understand the benefits of ordering wholesale. 
Keep It Wholesome: The Benefits of Buying Wholesale
Keeping Costs Down: The most obvious plus is the cheaper bundled cost of buying directly from a wholesale seller. Buying in bulk is traditionally budget-friendly and wholesale sellers sell their items at much lower rates than typical retailers. Buying this way also naturally means lower shipping costs, too.


Minimizing Effort: Running a business is no simple task. Between late nights and complex coordinating, you won't want to overextend yourself. Luckily, buying wholesale means you'll probably be well stocked for a long time, saving you time and energy.


Stocking Trusted Products: Wholesale sellers tend to offer brands that are universally known and appreciated. That type of familiarity automatically enhances your custom product for new customers.


Reliable Quality: When you purchase goods from a wholesale seller, you can count on knowing exactly what kind of quality you're going to get. When you buy wholesale, you're more likely to be able to rely on consistent and satisfactory quality for your items. 
Is Buying Wholesale Ethical?
When you think of the words "cheap" and "bulk", you probably don't think of "ethical". And it's true, most of the time, producing high-volume goods at low costs can mean sacrificing ethical business practices. 
Luckily, you don't have to buy from just anybody. Business is starting to catch up to the realities of mass production, and some brands are actually doing something about it. 
At KOTN Supply, we make it our goal to produce and distribute large quantity garment orders without compromising a commitment to ethical production and sustainability. This way, you won't break the bank, but you won't break your moral compass, either.
The Clean Truth 
Making sure a manufacturing business, especially wholesale, remains both ethical and sustainable means prioritizing its impact on the environment and its impact on society. For a business to be considered sustainable, it needs to focus on long-term strategies for meeting those goals. 
Sustainability is about framing business decisions in the long term: considering many more factors beyond financial benefit. Instead, they consider fair, safe, and compensated labor with environmentally low-impact materials. 
In fact, an operation that works honestly and legally at all times is better for your business. Customers will reward you for prioritizing ethical practices. There have actually been studies done that prove people prefer shopping at ethical businesses. 
Opting In 
If you're excited by business practices that allow you to sleep soundly at night, then it's time to opt-in. If you don't know where to start, continue reading to find out exactly how to go about buying wholesale printed t-shirts. 
The Perfect Pick
Once you have all of your ducks in a row you can start thinking about the fun stuff. Consider the style, feel, and quality of the t-shirts you want to invest in. 
The Style
There are all kinds of variations available for custom graphic T-shirts. Depending on your specific brand and vision, you could opt for one of the many styles. For instance, you could go for a unisex T-shirt to appeal to a wide audience. 
If you have a more tailored aesthetic, you can try anything from a v-neck to a slim fit, or even oversized or with a boat neck. Whatever your brand promotes, there is probably a wholesale retailer that caters to your distinct needs. 
The Feel
There are three major categories of fabric for typical wholesale t-shirts: 100% cotton, cotton & polyester blend, and tri-blend. Depending on what you're looking for, you can't go wrong with any of these options. 
For reference, the tri-blend is considered the softest of the three (though our Egyptian Cotton fabric would beg to differ). But opting for 100% cotton can make for more ubiquitous and long-lasting graphic t-shirts. 
The Quality 
The quality you choose is really important when buying wholesale. It may seem in line with your goals to purchase the cheapest option, but choosing good quality material will actually maximize your time and money. 
We not only make high-quality clothing items, but our clothing is also ethically and sustainably made with 100% Egyptian cotton. 
Customize It
Okay, we spoke too soon. The most fun part about this process might just be the customization process. You can take your T-shirt in multiple directions, and land on a design and style that feels perfect for your brand or group. 
Whether you're interested in something simple or something a bit more complex, there's a customization style that you will love for your wholesale graphic T-shirts. Three of the best customization options are embroidery, screenprinting, or DTG. 
Direct-to-Garment
DTG is the acronym for direct-to-garment customization. A DTG printer actually works a lot like a standard printer you'd find at your office or in your home. The major difference is that it prints on fabric instead of paper. Essentially, it takes the ink and jets it onto your T-shirt. 
The final product of a DTG design is usually high quality, but this method isn't the best to accomplish highly detailed designs.
Embroidery
The next method for garment customization you should consider is embroidery. This takes a few steps to complete. The artwork or logo is scanned onto a computer before starting. Then, a frame is pressed into an area of the fabric, while a needle comes up through the machine. Finally, the needle moves rapidly across the fabric to stitch in the design. 
This method of customization is great for light and open designs, as well as for creating a textured design. 
Screenprinting
One more option you should consider for your customized graphic T-shirts is screen printing your designs. The basic process for screen printing first involves creating a stencil on a mesh screen. Next, the stencil ink is pushed in to create and imprint the design on the fabric surface below.
Screen printed designs are usually more vibrant in color and softer on the T-shirt. 
Ultimately, each of these printing options has its own distinct benefits. It's really about your specific brand, its aesthetic goals, and the quality you're trying to represent.
Wholly Wholesale 
With all of the details considered, it should be a pretty streamless process ordering your wholesale custom graphic t-shirts. Once you've figured out the quantity of the item you need, all you have to do is pick your favorite style! 
It's time to equip your brand, business, or team with the best T-shirts for connection and presence. You'll be surprised at just how easy, quick, and financially smart the wholesale buying process can really be; you don't even have to consider sacrificing quality or ethics. 


Sources:
Wholesaling Definition | Investopedia
What is a Wholesaler? Wholesale Definition | eCommerce Platforms
The Route towards Sustainability in the Wholesale Industry | IT Supply Chain