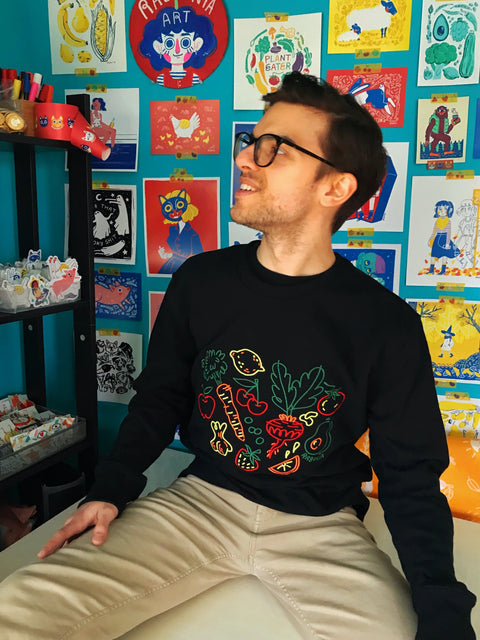 What Is Company Swag and Why Should I Have It?
When it comes to promoting your business, there are a few essential things you'll need. In addition to reliable products and team you'll also want to have swag items and promotional materials. These are a must-have for many reasons and can help you to grow your business in the long and short term.
The good news is that you have dozens of exciting options to choose from when designing and ordering swag for your business. Swag should reflect the products you create and the services you offer. This can be done through branding, color options, or even the type of swag you choose to share.
Whatever your swag or business needs might be, Kotn Supply is here to help. We're not only the team you can rely on for sustainable swag products that build your business without impacting the earth. We're also the company sharing details and information on best business practices and how to pick out the perfect swag each and every time.
Get started with the support of Kotn Supply today. 
What Is Company Swag?
The term swag is actually an acronym. It stands for "stuff we all get" and refers to the freebies and goodies that companies give out at corporate events and trade shows. Swag is one of the first ways that companies bring in new customers and get the attention of potential buyers. It's an important piece of the marketing puzzle, whatever your business is. 
Because there are so many different benefits and uses for swag, there are many options to pick from for swag products and goodies. You can share apparel, like t-shirts and hats, accessories like tote bags, or practical household items like bottles and mugs. There's a type of swag for every business, and many reasons to consider adding swag to yours today. 
What Are the Benefits of Company Swag?
Swag provides many benefits to businesses, no matter how big or small your team might be. While you always want to be careful when spending money on free supplies and goodies, there are proven advantages to sharing swag with potential customers and clients.
Here are only a few of the benefits of adding swag to your business today:
It Helps Attract New Customers
No matter where your booth, shop, or food truck might be set up, free stuff is always attractive. When you give things away, it's a chance to help bring in potential customers and to let people know all about your company, including the products and services you offer.
Swag is particularly useful at events like trade shows, where people are accustomed to being sold to. Give them something free and exciting to bring in their attention, and then let the quality and originality of your products keep them engaged. 
It Provides Free Publicity
What's better than free publicity? We can't think of anything!
Marketing can cost money, from sponsorships to advertising, which is why we love swag. Every time a person wears a hat, shirt, or backpack with your brand and logo, they show off your business to the world.
For a long time, it was believed that customers needed to see a product or service seven times before they felt confident making a purchase. With online advertising and media, people often need to see the product advertised more times since we're all so inundated with advertising all the time.
Each new wear or use of your swag helps to contribute to the message about your business, and you don't have to spend the significant amounts of money often associated with marketing and advertising. If your message, brand info, and logo are intriguing enough, it may even inspire potential customers to look you up the very first time they see your name.
It Boosts Team Morale and Camaraderie
Consider the benefits of purchasing swag for members of your team. Company swag can be a fantastic way to bring your employees together, depending on the kind of swag you purchase. To inspire everyone to kick off the new year with a fitness challenge, consider gifting workout gear or water bottles. If the company is transitioning to sustainability and a lower environmental impact, then reusable gifts are a great way to do so.
When the whole team gets the chance to wear matching outfits or embark upon a challenge or transition together, it can help with team building and boosting company morale. And when your team is excited and working together, that's when your business thrives. 
It Helps Onboard New Members
In the same vein, it can be incredibly useful for introducing new members to the team. Walking into an office on your very first day can feel overwhelming, which can make for lower-quality work and a sense of isolation. You can mitigate that by simply gifting your new employee a "welcome to the team" basket chock full of new company swag gifts.
To start, they'll feel a sense of kinship and togetherness with existing employees since they'll also share the same pieces and outfits. They'll feel like they're genuinely being welcomed and appreciated when you put together a special basket just for them.
It's a simple and easy practice, but one that can really make all the difference when the time comes to grow and expand your team. 
It's Useful for Social Media and Content Creation
We all know how much the feeds of social media love visuals. For many companies, visuals are easy. Visuals can show a few pictures or short videos of the products available to get people excited about all that the company has to offer. But for companies that are more service-based or that sell individual, one-of-a-kind items, it can be trickier to showcase what the business is all about.
That's where swag can be very useful. A few pieces of high-quality swag can help to streamline the content creation process and can give you plenty of ideas and options for what to post on your social media channels and even on your website. Even if your business does offer products that are easy to film and shoot, swag adds something special to the content creation process.
It's a clever addition to the marketing side of your business for many reasons. It can be helpful when it comes to creating unique online ads and photos that are still recognizable as belonging to your brand. 
It Can Be Used in Giveaways
Are you looking for the perfect things to raffle off or give away for your business? Swag is a classic option. 
While we love giveaways with full-sized products or the offer of services, it can become quite costly to participate in giveaways with your product every time. Instead, you can share different swag baskets and goodies to help boost online and in-person engagement. Even though every participant won't come away with a freebie, they are all now aware of the business, its brand values, and how they interact with its customer base. 
Giveaways are an extremely useful tool for growing small businesses, as they can help you to boost your online followings and share your brand in new places. Take your giveaway practices and methods to the next level with cool company swag today.
For an extra special touch, you can give away branded tote bags with goodies inside. With tote bags, the wrapping is also selling your company (and is more environmentally friendly than single-use wrapping paper). 
It Shows People Where To Find You
Of course, the most important thing about advertising your product is that it lets people know where they can find you. Sometimes, that simply means sharing a social media handle or a website. Other times, it's a clickable link to your full catalog, where they can order products directly from their phone.
With swag, you can share your handles easily, which allows potential customers and consumers to find you again when they're ready to make a purchase. We often lose business cards and paper information, but branded products like bottle openers and super soft t-shirts have a purpose and can be referenced in the future. 
You Can Share Samples
With swag, it's easy to share samples from your business. A lot of the time, swag bags are produced for events and activities. You can mix and match branded pieces with the products you sell to create a cool and useful set of goodies that people will want to take home.
If you're looking to share samples and draw attention to everything those samples have to offer, swag is the way to go. It always brings in new eyeballs and introduces potential customers to the products you know they will love. 
Conclusion
Picking out the perfect swag for your business can be a lot of fun. And there are many reasons to consider doing it. Swag is a type of freebie that is often found at locations of business or at trade shows where companies are trying to attract the attention of new customers. It does exactly that — and a whole lot more.
Swag can bring people to your booth, promote your product out in the world, and create content for online media. It's also useful for supporting your team's morale and even for onboarding new employees so that they really feel like they're part of the group.
There are tons of swag options to pick from, from sustainable products to apparel to sweet treats. Swag can be a unique and dynamic technique to highlight your company and engage your target audience.
Kotn Supply is here to help. If you're on the search for low-impact and sustainable swag products, we make it easy to find what you need, and we're sharing all you need to know about picking out the best swag products to build your business and meet new customers today.
Sources
Free Or Low-Cost Ways To Promote Your Business | Forbes
The Marketing Rule of 7: Tips for Using It To Convert Leads | Indeed.com
How to Use Social Media in Your Career and Business | New York Times