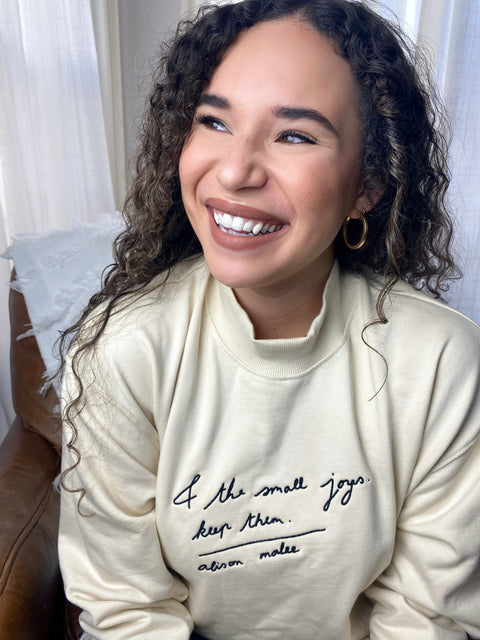 Custom Sweatshirt: Buyers Guide to Wholesale Purchase
​​When it comes to your custom merchandise game, a sweatshirt can make all the difference.
First of all, everyone owns a sweatshirt. No matter who you are, you've got one sitting around in your house somewhere. Second, a custom hoodie or pullover can be much more stylish than other custom clothing.
There's more fabric and space to work with, meaning you can make your design as unique as it can possibly be. If you're wholesale buying a custom crewneck sweatshirt or hooded sweatshirt, you can create an exciting and daring design for everyone to try out. 
Whatever the case is (and whoever it's for), a custom sweatshirt is a bestseller, and there's no debating that. Today, we're bringing you the ultimate buyer's guide to making custom sweatshirts through a wholesale purchase.
Why Shop Wholesale?
There are so many reasons to get a custom sweatshirt or sweater. However, before we discuss that, it's crucial that you understand the process of wholesaling and if it's right for you. 
Wholesale is a method that involves purchasing a product in bulk straight from the manufacturer or producer of that product. This process is used by almost every retail business globally, not just in the fashion industry.
Clothing retailers use it the most. For example, a business will purchase a custom design product, like custom t-shirts, from a wholesale company. This business would buy the tees in bulk, keeping the overall price down. 
Once the high-quality product arrives, the business will then sell it to consumers for more than what it paid, turning a solid profit. You'd be surprised by how many of your favorite stores and companies use wholesale to make your most beloved items!
If you're looking for just one or a couple of custom pieces, wholesale likely isn't for you. For those large, bulk orders — you've come to the right place. 
Why a Sweatshirt Is a Perfect Purchase
If you can buy almost anything through a wholesale purchase, why buy a sweatshirt specifically? 
Let's start with the fact that bulk ordering your own custom sweatshirts isn't as common as T-shirts or water bottles, for example. A sweatshirt is more expensive but will be well worth it because of the quality. 
Bigger Is Better
More fabric, space, and room to let your imagination run wild. 
There's no doubt a custom sweatshirt is the way to go when you finally decide on a design — it's extremely difficult to mess it up and very easy to get it right. 
If this is your first time designing custom apparel, that's exactly what you need. Sometimes, more is less, but not in this scenario. 
Comfort
Sweatshirts are comfortable — plain and simple. 
Even on hot days, lounging in your sweatshirt with the air conditioning blasting will never get old. When the weather gets a little colder, sweatshirts are a perfect alternative to a midweight coat.
More fabric means more warmth and comfort. Not to mention, sweatshirts are comfortable and stylish enough to go out in, especially if it's custom and branded. 
Wherever you're wearing your personalized hoodie, you can take solace in the fact that you're going to be very comfortable.
Style
Sweatshirts are absolutely stylish enough to wear around town or for a night out, depending on where you go. 
Some people love sweatshirts over anything, and we're definitely in that group. Matching different colors of sweats or shorts can take your look up a notch too. Pair your favorite reliable bottoms with a comfy custom sweatshirt or zip-up hoodie design; it's always a solid look that is a breeze to pull off. Plus, it has a neater appearance than wearing heavyweight apparel that pulls you down. 
When your warm and cozy long-sleeve sweatshirt is custom — meaning only you and a select few people will be able to wear it — it'll boost anyone's style rating tenfold.  
How Can You Make Personalized Sweatshirts?
Now, let's talk about the customization aspect of your sweatshirt.
There are so many different routes you could take, from the pattern and colors to the actual style of print for the design. 
There are three main ways your custom logo or design can be transferred to the sweatshirt: screen printing, digital printing, and embroidery. All three have their highs and lows, so let's look a bit closer.
Screen Print
Screen printing involves a few specialized tools and a stenciled version of your own design or a modified design template.
Screen printing is one of the most common methods used for printing as it's the cheapest and fairly quick. Because of the process itself, the colors will pop the most out of any method and give a truly sparkling and polished look. 
This method also gives you the most options, as the choices for colors and ink are almost endless. 
Digital Print
While digital printing isn't the cheapest or prettiest method, it's absolutely the fastest, and some people prefer how it looks. 
Digital printing is done through different types of machines and requires little hands-on work. When it's all said and done, the product will look, well, digitally printed. There's nothing wrong with that look, and it's still unique in its own way.
Again, it's definitely the fastest method that, like any method, has pros and cons — it all depends on what you prefer.
Embroidery
Out of the three, embroidered unisex hoodies are the most unique way to make your own custom hoodies.
Instead of relying on a printing process, embroidered designs are stitched to the apparel item using colored threads and careful craftsmanship. 
If we had to describe the look embroidery gives off in one word, we'd probably say "human." Embroidery utilizes the most hands-on work out of the three, and that is displayed well through the finished product. 
No robots, no computers, just embroidery. This design option works for numerous sweatshirt designs, including the full-zip hoodie, the fleece pullover, and more.
Design FAQ
Finally, we've arrived at our favorite part: the actual design of the sweatshirt. 
Designing your own pullover hoodie, short-sleeve tee, or other merch can be super fun but also challenging at times. If you're struggling to find inspiration, here are some classic designs that apply to almost any custom apparel, not just trendy sweatshirts.
The Strategist
If your goal is to market a certain product or brand, then you'll want to go big. We call this "The Strategist."
It's simple marketing: The more people see your brand and logo, the more your name gets around town. You can gift your employees merch to wear around, or you can also sell it directly to the consumer.
Whatever the case is, this design consists of one or two large logos located on the front, back, or both sides of a drawstring sweatshirt so you can be seen everywhere. 
The Sweet and Simple
Sometimes, less is more, and that's exactly what "The Sweet and Simple" accomplishes.
If you still want to market without sacrificing the style of the branded fleece hoodie or full-zip sweatshirt, you're probably looking for something like this design. 
One smaller logo is located somewhere on the front of a men's, women's, or unisex sweatshirt or quarter-zip — typically on the upper chest. You can add a little more by including a company slogan on the sweatshirt. 
The In-Betweener
If you can't decide, there's always a compromise. 
"The In-Betweener" offers a bit of both worlds: one small logo on the front while the large is on the back or vice versa. 
You can do the same tweaking we mentioned before by throwing in a company slogan or the company's name in a cool font. You can even opt for a sweatshirt with extra-soft material like French terry or tri-blend cotton.
KOTN Supply
KOTN Supply is committed to offering the highest quality and ethically sourced wholesale merchandise on the market. 
Our products are made from 100% Egyptian cotton sourced from the Nile Delta. We are also proud to say we're a part of a small and distinguished group: only 5% of companies can say they can fully trace where their products come from — starting at the farm and ending at your doorstep.
Beyond that, we're dedicated to ending the era of throwaway merch for good. We've all been there — a free personalized gift like a T-shirt or water bottle from your company or a large event is given to you only to never be touched or worn again. 
KOTN offers more than that. Our clothes are comfortable and stylish enough to wear anywhere from a night out on the town to lounging at home doing remote work. 
You can get started by checking out our full supply catalog here.
Sources: 
Wholesaling, the Role of the Middleman and Marketing Costs: Some Forgotten Concepts in 
Marketing Thought | Research Gate