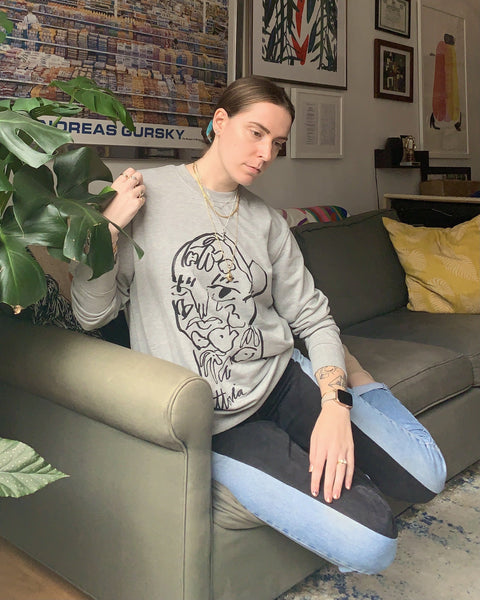 Wholesale Crewneck Sweatshirts: Buyer's Guide to Bulk Sweatshirts
There are many reasons to transition to sustainable pieces when purchasing wholesale for your team or business, but where do you start? With so many different purchasing and customizing options to pick from, it can feel very overwhelming. KOTN Supply is here to help. 
We make the move toward sustainable clothing and materials simple and easy, so you can find the best pieces at the best price and reduce your environmental impact without sacrificing fashion or style. 
Explore the unique and interesting sustainable options here at Kotn, like crewneck sweatshirts, and begin customizing and stylizing them to fit your team or business today.
Crewneck at a Glance
The crewneck started out as a utilitarian piece. It was used by the military in the beginning of the 20th-century, and eventually became a standard of athleticwear, replacing the uncomfortable and itchy sweaters of the time. It gets its name because of its ubiquitous use by crew rowers early on. 
The film Rocky, released in the 1970s, brought crewneck styles onto the big screen, around the same time that hip hop culture was taking root in the United States. An American designer by the name of Norma Kamali introduced sweatshirts to student and youth populations, contributing to their rise in popularity. 
Eventually, crewnecks and hoodies, another style of sweatshirt, were adopted by the high fashion houses, which brought athleticwear and loungewear into mainstream fashion and solidified their place in history. Today, crewnecks can be found in many different styles and designs, so you can fashion them to fit your taste with ease. 
Why Wholesale Purchase at KOTN Supply? 
If you're looking to share crewneck hoodies with your team or to publicize your brand with available merchandise, we make it easy. Reducing your environmental impact and contributing to sustainable sourcing is simplified and accessible with the support of our team. Here are just a few of the ways we strive to be sustainable with every order. 
Supply Chain 
We believe in transparency across the board. Purchasing sustainably can be more expensive, but we're working to simplify the process and to remove the middlemen so you can purchase ethically sourced pieces at a price that fits your budget. 
One of the best ways to trace your company's sustainability and ethics is by simplifying the supply chain. That's why we work directly with farmers and communities, and why we're dedicated to transparency and truth on every step of the process. 
Materials & Farms 
One of the most important steps of that process is the procurement of materials. Our name, KOTN, is Arabic for cotton, because we're paying homage to the original cotton fields from the Nile Delta. We believe in using pure quality materials and working directly with the individuals who grow them. 
That's why we're collaborating with 2,390 smallholder cotton farmers. Doing so allows us to reduce our environmental impact, ensure maximum transparency on every stage of the supply chain, and support the communities that support us. 
Support for Artisans and Communities 
We want to take it one step further. In addition to ensuring that all of our artisans have a living wage and safe working conditions, we're partnering with NGOs to help provide educational resources to communities where we source our materials. 
Over 30% of people in the regions where we purchase our cotton have little or no access to education or literacy programs. We're working with the Misr El Kheir Foundation on the ABCs Project, which has so far allowed us to build 10 schools and fund 15. These schools serve 88% female students. Our intention is to provide every child in the region with an education and to build 50 schools by 2025. 
We believe in sustainability on every stage of the sourcing and creation process, which is why we're dedicated to supporting communities and providing the resources needed for all of our farmers and artisans to live safe, healthy, and fulfilling lives. 
Reducing Single-Wear Pieces
Fast fashion is taking over the world, since pieces are inexpensive, widely available, and always changing. But the truth of the matter is that fast fashion can have a lasting impact on the environment and the people who produce it. 
Because the pieces are created quickly, they don't typically last. In fact, most clothing from fast fashion companies is worn just a few times before it gets moved to the back of the closet, donated, or thrown out. The pieces degrade quickly, and the low-quality materials mean it is difficult to repair these pieces, even for those who want to. 
This is particularly true when it comes to promotional pieces, team outfits, or shirts bought for those special events and activities. You're spending money to promote your brand and engage your employees or customers, and you deserve pieces that really last. 
At KOTN Supply, we're trying to get rid of the single-wear outfits, and replace them with the high-quality sweatshirts that won't disappear or fall apart after just a few uses. Promotional materials are useful for businesses in many ways, and your team deserves shirts that make them feel appreciated and comfortable with every wear. 
Did you know that our sweatshirts actually get softer as you wash them? It's all part of our dedication to creating pieces that contribute to a sustainable lifestyle and make you and your team feel good. 
The next time you need to order sweatshirts for sporting events, branding, or fundraisers, consider ones designed to last. Consider KOTN Supply, and start rethinking all that promotional materials could be. 
Crewnecks Available and Custom Options 
One of the reasons to consider sourcing your wholesale crewneck sweatshirts from our team here at Kotn is that we offer lots of great options. Crewneck sweatshirts are just one of the customizable clothing pieces we offer, as well as t-shirts, longsleeve shirts, hoodies, and sweatpants. 
We also provide unisex zip-up hoodies and quarter-zip sweatshirts. If you're looking for a really interesting giveaway or promotional item for your customers or clients, you may also want to consider our canvas tote bags, which can be customized, as well. 
You have many different choices when it comes to customizing your unisex crewneck sweatshirt. To start, you can pick between black and heather grey, both great options for displaying your logo or art. Add that decoration in one of three styles, embroidery, screen print, or DTG, direct to garment. 
This allows you to customize your style and to really highlight your brand. We carry sizes from XS to XXXL, so you can find the best sizes for your sports team, or carry size-inclusive outfits at your shop or restaurant. 
The custom crewneck sweatshirts available are even easy to maintain. They're 100% cotton and can be washed in cold water. Air dry them to keep them looking sharp and chic for long, and to reduce your environmental impact with every wear. 
Conclusion 
At KOTN Supply, we believe that everyone should have the option of purchasing, dressing, and living sustainably, because the materials we use and wear matter, and so do the people who make them. Rather than trying to reinvent the wheel, we're narrowing down on the type of sustainable production processes that really work, and that means going simple. 
To that end, we work directly with farmers and artisans to ensure they have the resources they need for fair wages and safe living conditions. We cut out the middlemen and middle companies, which helps to reduce costs and keep sustainable purchasing available and accessible. 
By going straight to the source, working with nearly 2,400 farmers and families, we can ensure transparency and honesty on every stage of the supply chain, so you know exactly where your clothing is coming from every time. We're even working within those communities to provide educational resources and schooling alongside the agencies in the region. 
Bring sustainable pieces to your company with the customizable crewnecks available for wholesale purchase right here at KOTN Supply. Crewnecks are just one of the style options we offer, and they come in two different colors, so you can best highlight your brand or business. Customize and style them with different stitching and printing options, and create a product that you and your team can really be proud of. 
You're building business for the future and teams that last, and we're here to help. When it comes to customizable wholesale clothing that can support your company or employees without sacrifice, Kotn has you covered. Begin creating and designing the perfect custom crewnecks to fit your team, and place that first order today. 
Sources:
Dropping Knowledge: The Crewneck Sweatshirt | GQ
Bette Midler, Vera Wang, and More Tell the Story of the Iconic Norma Kamali | Vogue
What Is Fast Fashion, and Why Is Everyone Talking About It? | Town and Country Magazine