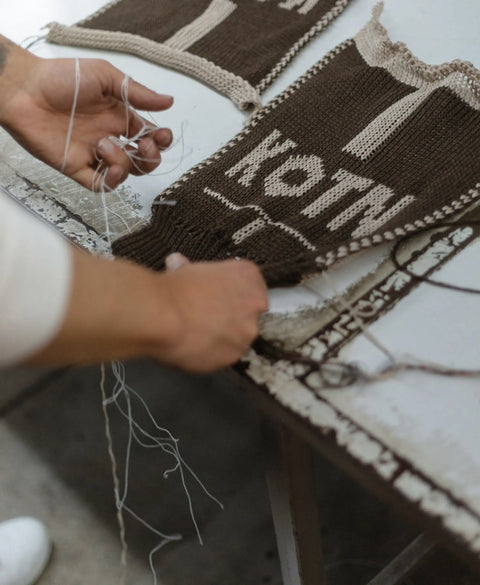 Sustainable Clothing Wholesale: Adopting a New Strategy for Clothing of the Future
Purchasing wholesale clothing for your team or business can feel overwhelming at times. After all, there are so many different options, prices, sources, and styles; how do we know where to start? If you're looking for a sustainable choice for wholesale clothing, KOTN Supply has you covered. 
We're dedicated to minimizing production impact while maximizing fashion impact, and we offer the clothing and simple choices to help you get started on your sustainable clothing wholesale journey today. 
What Makes KOTN Supply Sustainable?
Here at KOTN Supply, we're making things simple. Because sometimes the most sustainable way forward is the simplest. Here are just a few of the ways our team is working to reduce the impact of single-use and plastic-rich fashion, so we can create lasting styles that our community can enjoy for a long time to come. 
Supply Chain
Oftentimes, clothing gets sent all over the world before it ends up at your nearest shop. We believe in streamlining the supply chain and reducing the need for middlemen. This gives an in-depth understanding of how our clothing is produced and sourced and allows us to provide living wages, safe working conditions, and fair treatment for every member of our team around the globe. 
It even helps to reduce the environmental impact of clothing production. The more we know about how our clothing is made, the more we can guarantee sustainability at every step.
Materials
It all starts with the raw materials. KOTN translates to cotton, which is our way of paying homage to the materials humans have long relied on for warmth and comfort. Rather than focusing on our bottom line and sourcing inexpensive materials, we return to the original source of cotton, the Nile Delta in Egypt. There, we collaborate with 2,390 smallholder cotton farmers to purchase the highest quality materials and to support them as they support their communities. 
Where We Go 
Everyone deserves access to sustainable fashion and pieces designed to last — and to education. That's why we started the ABCs Project. Our cotton is grown in Egypt, where over 30% of people don't have access to basic literacy programs and education. 
To help bridge the gap, we've partnered with the NGO Misr El Kheir Foundation, and we donate a portion of every KOTN Supply order to supporting the development and accessibility of schools and centers for learning. 
So far, we've funded 15 schools and built 10, mostly serving girls. Our goal is to build 50 schools by 2025 and to provide every child in the farming communities that support our business with the education they deserve.
Sustainable Wholesale at a Glance
There are many elements that make KOTN Supply a sustainable brand, but we also aim to be your first choice when it comes to wholesale orders, as well. Here are just a few of the ways we make it easy to adopt a new strategy for purchasing clothing today and into the future. 
Custom-Made Apparel
Whether you're purchasing clothing for your team at the office or out on the field, KOTN Supply makes it easy. When it comes to creating t-shirts or sweatshirts with your company logo, there's often a race to the bottom for the price, which means sacrificing materials and quality. 
With KOTN Supply, you'll be able to create iconic and creative clothing that your team will really want to wear, and you'll be able to do it all with 100% sustainably sourced Egyptian cotton. 
We offer complete traceability for all materials and craftsmanship, which means you can design and order clothing for the future. Your team will appreciate the artistry and sustainable design imbued in every stitch, and you'll be able to bring the joy and benefits of sustainability to your business. 
Skip the One-Wear Merch
Oftentimes, promotional events and team-building conferences give out one-wear merch that ends up in the back of our closets. The low-quality material can be uncomfortable or easily damaged during the washing process. 
That can mean an expensive promotional cost for goodies no one ends up wearing. It also means that a lot of clothing ends up in landfills or transported to clothing markets around the world, which can be costly to our environment, as well. 
At KOTN Supply, we believe in long-term investments that benefit everyone. That's why we work with farmers to obtain the highest possible materials, and why we partner with artisans to ensure your clothes are well-crafted and designed to last. 
When you purchase sustainable wholesale pieces from our collections, you won't need to worry about those promo goods ending up in packed donation bins or landfills. Instead, they'll become well-loved pieces in the wardrobe, which helps to promote your business and protect the world. Now that sounds like a win-win to us. 
Lower Markups 
You may be wondering if sustainable craftsmanship and material sourcing comes with a cost. And it does. We're dedicated to providing living wages for our artisans and procuring our raw materials at fair prices. 
We also want to streamline the process in the interest of transparency and accountability, and in doing that, we're removing a lot of the excess costs often associated with purchasing sustainable clothing. 
Did you know that manufacturing prices are actually marked up between five to seven times higher than the true cost of production? Not here at KOTN Supply. We're removing the excess steps and middlemen that cost money and muddy the process. Instead, we go straight to the source, working directly with farmers and artists to find sustainable and ethical pieces that won't break the bank.
We believe that everyone should have access to sustainable clothing, whether you're purchasing for your own closet or for your entire team. Find sustainable pieces to fit your budget in the collection here at KOTN Supply, and know that every purchase helps to build up and support the communities where it was made. Now that's valuable. 
Options To Pick From 
You deserve outfits and promotional materials that support the innovation, creativity, and personality of your business or company. That's why our team is excited to offer a wide range of options when it comes to customizing your clothes, so you can find sustainable alternatives that don't require sacrifice. 
To start, we carry lots of different clothing options for wholesale customization. That includes unisex t-shirts, unisex long-sleeve shirts, unisex crewneck sweatshirts, unisex hoodies, and unisex sweatpants. They're all available in either black or heather grey. 
The unisex zip-hoodie and unisex quarter-zip hoodie are both available in black, and the t-shirts are also available in white, perfect for adding your own custom twist. You can do that with three different decoration options, embroidery, screen print, or DTG, direct to garment. Each has its own unique style and benefits, which allows you to create and design something truly special. 
We offer more than just clothing options. One of the most common picks for goodies and giveaways is a tote bag, which helps to reduce the need for plastic bags while promoting the brands and company you love. 
Find customizable tote bags here at KOTN Supply that can be designed with your logo or brand colors, and can help to make the transition to sustainable living simple and easy. All you have to do is share a screen print of your logo or festival design to get started. 
Conclusion 
Sustainability may seem like a buzzword in fashion and commerce right now, but here at KOTN Supply, we're working to clear the air and simplify the process. Rather than trying to reinvent the wheel, we're going back to the original source, taking inspiration from modern farmers and all those who have come before them. We're working with communities to create clothing and accessories that really last and that best support the people who make them. 
You can use this type of simple sustainability to help your business every day. With our sustainable wholesale efforts, we make it easy to purchase affordable, long-lasting clothing and accessories that you can brand or style however you want. 
We're helping to reduce the prevalence of one-wear merch and to minimize the number of branded tanks and tees that end up in landfills. Our clothing is affordable because we focus only on the things that matter, and you'll have many different options to pick from when it comes to customizing your next wholesale order. 
Find sustainable clothing that supports your business and helps to support the world right here at KOTN Supply. Explore our growing collection of customizable wholesale pieces and put in your first of many future orders today. 
Sources:
10 Tips for Buying Swag Your Customers Will Love | LinkedIn
Why is there still so much hidden plastic in our clothes? | Vogue India