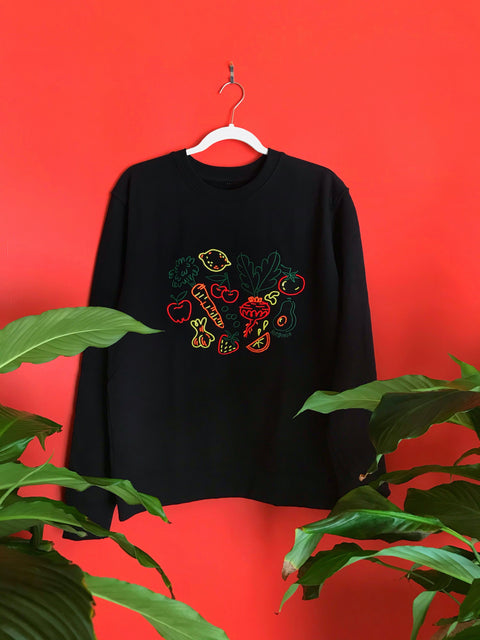 Embroidery vs. Screen Printing: Comparison Guide To Representing Your Logo or Brand
To print, or not to print: That is the question. 
At least, that's the question we'll be answering today. Specifically, when choosing between embroidery and screen printing, what's the difference, and what's the best option to advance your brand's goals? 
In the world of printing, wholesale, and custom apparel, you have a ton of options. 
When you put your logo on something, that item instantly becomes an extension of your brand. It will be worn by the people who work for the company and be seen by people who might eventually have an interest in your business. So, it needs to be top of the line in comfort, quality, and cool enough to wear to any occasion — not just business. 
We're going to go through everything you need to know about embroidery and screen printing to help you decide what's right for your brand. 
Why Should You Put Your Logo on Custom Apparel?
Before we get into any comparisons between printing styles, it's absolutely essential that you understand why ordering and distributing apparel with your logo on it is key to a successful business. 
Other than custom apparel being the most common and effective way of marketing a brand, it's also a huge boost to your employees' morale. 
We'll get deeper into all of this soon enough, but for now, all you need to know is that if you've never thought of doing this before, there's no time like the present.
Whether it's embroidered or screen printed, here are the two biggest reasons why you need to start marketing, selling, or distributing your custom swag.
Marketing
There's billboards, commercials, social media, and of course, classic grassroots marketing techniques. While grassroots marketing doesn't exactly mean custom apparel, it's how you design your swag that makes it the perfect tool for word-of-mouth advertising. 
This marketing technique involves creating something truly unique, never seen before, and eye-catching that's targeting a specific audience. 
Think about how your favorite fast food brands market their burgers with unique logos and storefronts. We'd bet every cup, bag, and wrapper has their logo and name on it. If you see someone walking around with a bag with an iconic yellow "M" on it, you know exactly where they got it from. 
Designing custom apparel for your company uses the same idea. The more people wear your logo out, the more people will see it, and the more business you'll inevitably attract. 
Morale Booster
It's important that your employees are happy and motivated. 
A business is only as good as the people that keep it running. Mental health days, employee retreats, and custom apparel are becoming increasingly more common as ways to keep employees satisfied and fresh. 
Building a strong bond and sense of community between employees is essential, and as we mentioned above, one of the best ways to do that is by allowing them to represent the company with some custom swag. 
Whether you're setting up a shop or giving some stuff out as gifts, your employees will be over the moon to finally be able to represent the company they put in so much work for. 
As a bonus, if the apparel is casual and cool enough, they'll wear it in places besides the office so you can get some extra marketing sprinkled in throughout your ordering and distributing process. 
The Printing and Transfer Process: What's Right for You?
Once you've decided what type of custom apparel you'll be ordering (more on that later), you'll have another important decision to make: how you want your logo to look. 
Assuming your logo is already set in stone, it's essential that your design reflects the tone and culture of your brand. This means taking into consideration the logo itself, the color scheme, and of course, how the design is going to be printed. 
There are three main types of printing and transfer processes that each give off an entirely different vibe: embroidery, screen printing, and digital printing. Today, we're comparing screen printing and embroidery to help you learn more about these two popular options.
Embroidery
Embroidery is the process of transferring a design by stitching. 
This method utilizes a variety of colored threads and talented workers who are able to transfer your custom logo or design onto the blank apparel of your choice. Let's look at the pros and cons. 
Pro: A unique look and feel. Not only does embroidery give a unique stitched look as opposed to any sort of traditional printing method, but it also feels different. By that, we mean it literally feels different when you touch it. Because it's stitched, you'll be able to see and feel the stitches — and no other method comes close to this feeling. 
Con: The longest process. Out of the common design transfer methods, this one absolutely takes the longest. Every stitch and thread is woven into the apparel, so while this does take the longest, there's an undeniable human touch you won't find anywhere else. 
While your order might take longer to make and arrive with embroidery, the finished product will be like nothing you've ever worn before — and that's grassroots marketing gold. 
Screen Printing
Screen printing takes an entirely different approach to design transfer. 
Instead of stitching or using machines, screen printing involves a special mesh, design sketch, and tons of ink to create yet another distinguishable feel, albeit completely different from embroidery. Here are some more pros and cons for you: 
Pro: Cost-effective, fast, and classic. Screen printing has been around for centuries, and the process still hasn't changed much since it first came around. It's a little old school, but it's easily the fastest, cheapest, and most commonly used method of printing. 
Con: A tad overdone. While screen printing has been around the longest, that also means it's been used the most. The design still gives off vibrant colors and is a classic look, but it's still been used a lot and is on almost every graphic T-shirt out there. 
At the end of the day, screen printing is undoubtedly a full-proof printing method that isn't likely to cause any problems. 
Which Method Comes Out on Top?
Although screen printing is more common, it's still difficult to choose between that and embroidery. 
To put it simply, it all depends on what you're going for and what you think your employees or consumers will like. 
Embroidery will provide a distinct can't-miss feel, but it's not for every company. Screen printing is classic, but it might not be the right choice if your logo is simple or if you just don't like how the final product will look. 
So, once again, it's entirely up to you. You can always sample and do your own independent research, but when it comes down to it — it's your call. 
KOTN Supply
KOTN Supply is here to help you market your business, boost your employee's morale, and so much more. 
We use 100% Egyptian cotton sustainably and ethically sourced directly from the Nile Delta to ensure your product never becomes throwaway merch. 
By that, we mean your custom swag won't be something that gets buried under mountains of clothes or something that's only worn during laundry day. Our apparel is not only one of the comfiest things you'll ever wear, but it's also cool and sleek enough to wear to any occasion. 
From sweatshirts to sweatpants, KOTN has got your next wholesale swag order covered from top to bottom — literally. You can browse our full catalog here, and we hope you join us in our mission to end the era of throwaway merch forever. 
Sources:
Grassroots innovation success: The role of self-determination and leadership style | Science Direct
5 Ways Businesses Can Use Custom Gear to Boost Their Brands and Unite Employees | Recruiter