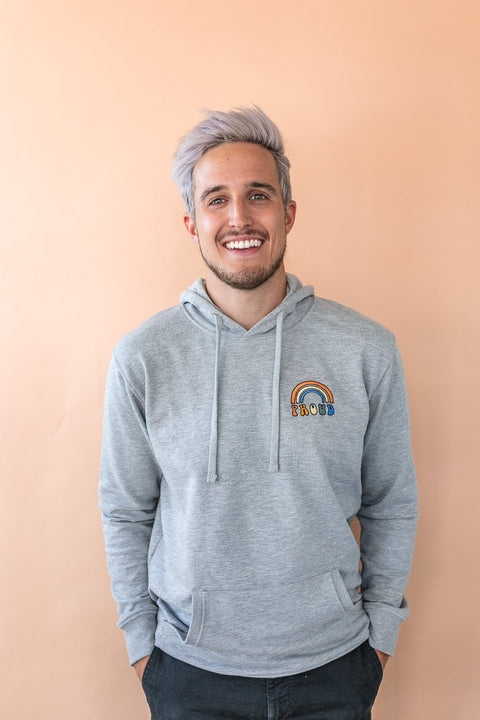 Branded Hoodies: Brand Exposure With Style
Logos have long been used to add elevation and chicness to outfits and pieces, and to help promote lifestyle brands as aspirational and trendy. Today, some of our favorite pieces have subtle or prominent logos used as identifiers and unique elements to make neutral or capsule wardrobe clothes that really stand out. 
You can find such pieces here at KOTN Supply. We're the team you can turn to for ethically sourced materials that don't sacrifice style or comfort, and wardrobe essentials that embrace simplicity, elegance, and versatility with every use. Find the best-branded pieces to fit your personal style and your way of life here at KOTN Supply today. 
History of the Branded Hoodie
Sweatshirts and hoodies have a history that dates back several centuries, as far back as Medieval Europe or even earlier. In the modern day, they were first introduced for use by workers in the cold environments of upstate New York and then added to the lineup of military wear, due to their utility and comfort. 
In the 1970s, the movie Rocky helped to bring sweatshirts into the limelight. Fashion designer Norma Kamali revolutionized them as a hip style for students and youth, at the same time hoodies and sweatshirts were growing in popularity in the hip hop movement. 
Since then, hoodies have been as popular in the high fashion and haute couture worlds as they have in streetwear and loungewear fashion circles. While the hoodie and sweatshirt were growing in popularity, so was the classic white t-shirt. Similarly to the sweatshirt, it got its modern start in the military, and rose to popularity as a fashion piece in movies and celebrities. 
Screen-printing technology evolved in the 1960s and 1970s and allowed brands, musicians, cities, and more to adorn the fabric with individual logos and styles. With that, brands and companies began creatively thinking about how to sign their styles, which is why many different t-shirts and sweatshirts today have iconic brands on everything from the pocket to the sleeve to the back.
Branded Hoodie Options
If you're looking to add some of that branded logo cool to your wardrobe, you have lots of great options to pick from. Here are some of the branded hoodies you'll find in the collection at KOTN Supply. Pair them with sweatshirts, shorts, linens, and more today. 
Unisex Logo Hoodie in Black
We believe in using simple materials to create lasting products that support people and the earth. The Unisex Logo Hoodie in Black has a relaxed fit that is comfortable for both men and women alike and is ethically made with 100% Better Cotton Initiative cotton fleece in Portugal. 
Not only can it be machine washed, but the material will actually soften with every wash, so you can continue to enjoy the comfort of your favorite logoed hoodie. Wear it at home on cozy nights in, or pair it with your favorite trainers, bike shorts, or tanks for a day out on the town. You're sure to look cute and cool and enjoy maximum comfort, no matter what. 
Unisex Logo Hoodie in Racing Green
Looking for all that comfort and versatility but without the neutrals? You can find the Unisex Logoed Hoodie in more than just black. Just check out this stylish racing green color, inspired by the performance-ready vehicles of Europe. It's sure to add a little extra romantic style to your new hoodie, and opens up the possibilities when it comes to outfits and pairing. 
You can even extend your racing green wardrobe to include stylish and comfortable sweats for a complete outfit.
Other Branded Pieces To Pick From 
With such a unique and interesting history, it's little wonder why branded pieces will never go out of style. If you're on the search for more than just the next great branded hoodie, KOTN has you covered. These are just a few more of the branded pieces you'll find here in our collection. 
Unisex Longsleeve Logo Crew in White
The Unisex Longsleeve Logo Crew in White also respects and honors the history of cotton. It does this both with the use of our logo and with a beautiful botanical illustration in shades of greens and yellows that really stand out against the white. 
The white longsleeve crewneck shirt is soft, breathable, and comfortable, which makes it a good option for those hot summer days, and allows you to pair your new look with lots of different pieces for lots of different seasons. 
Consider a slim staple pant in black or a pair of wide-legged trousers in earth tones when styling your Unisex Longsleeve Logo Crew in White, and enjoy maximum comfort and style all at the same time. 
This piece has a relaxed fit with ribbed cuffs, and it's suggested for women to size down one size for a more comfortable fit. 
Logo Sweatshirt in Racing Green
Another cool style to try out if you love the logo look is a classic sweatshirt without the hoodie. Hoodies are super comfortable because you can pull up the hood to warm your ears or keep the rain off, but you can't go wrong with a crewneck sweatshirt, either. In fact, they're a classic piece in haute couture fashion for a reason. 
The unisex logo sweatshirts available here at KOTN come in shades of black and racing green and have the logo stitched elegantly across the chest. They can be found in men's and women's sizes, to best fit your comfort and style needs, because we design our clothes to be worn and lived in. 
The inside has that soft sweatshirt feel, thanks to 100% cotton, sourced from the Better Cotton Initiative, and the outside has a sleek and smooth outer surface that will make you look chic and put-together on even the chilliest of days. 
Take your sustainable fashion to the next level with the logo sweatshirt, since it can be machine washed in cold water and air dried. There are no additives or chemicals applied to the sweatshirt and, like all of the clothes available here at KOTN, it's designed to last. 
Find the Logo Sweatshirt in Black with blue text or green with white text, and men's and women's sizes here at KOTN today, and start putting together the next great outfit tomorrow. 
Conclusion 
You deserve sustainable and ethically sourced pieces that will elevate your style and leave you feeling chic and confident all day long. And you don't have to sacrifice comfort for style since loungewear is trendy and sweatshirts have long been a staple of high fashion. That includes the branded or logoed hoodie, which can be used to show off your personal sense of style and the brands you love. 
Find high-quality and long-lasting logoed hoodies right here at KOTN Supply. We're proud to represent and pay homage to the history of cotton, hence our brand name and the embroidered logos on our pieces. 
Our clothing is made entirely with cotton, and many of our pieces reference the first cotton fields of the Nile Delta, both in the graphics and the words. Our hoodies are easy to wash and sustainable to dry, and they'll actually get softer with every cleaning. Who doesn't love that new sweatshirt feel? 
When you're ready to begin exploring unique, elevated, and reimagined neutrals and basics with a sustainable twist, turn to the team at KOTN Supply. Explore our growing collection of ethically sourced loungewear and daywear, like sweatshirts, hoodies, and longsleeve shirts, and begin putting together the outfits you like today. 
Sources:
The History of the Hoodie | Rolling Stone
Everything to know about the history of the T-shirt | Vogue Australia