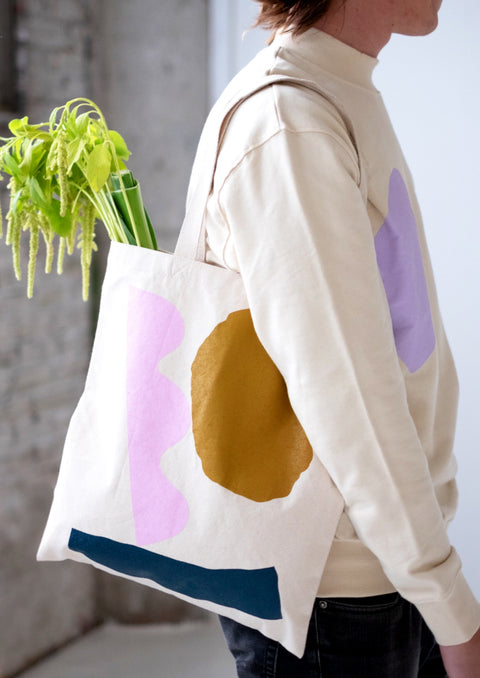 Custom Tote Bags: The New Swag Standard
Tote bags have become a necessity for transporting essentials. Once you start toting your belongings around, you'll never go back to the tote-less life you once lived. 
Wallets and handbags are no competition when you can fit so many items in one bag, and a backpack could never be this cute. A tote bag is the accessory of this season and beyond. 
The Kotn Natural Canvas Tote is the perfect conduit for merch, company logos, personal designs, and so much more. 
A canvas tote bag is so much more than a simple purse or handbag. It provides the perfect combination of simplicity, style, and functionality. 
Get Creative With Merch
What do you think of when you hear "merch?" Maybe you imagine a t-shirt wrapped in a vacuum-sealed mini bag, or maybe you picture a sweatshirt or poster. 
It's also easy to imagine cheap, low-quality swag handed out at company gatherings that ends up getting thrown in the trash later. It's time to raise the bar with high-quality, long-lasting, and ethically sourced swag that your company can be proud to gift.
These are, of course, wonderful options for customers and employee presents alike, but a custom cotton canvas tote made from high-quality materials brings your merch to new heights. They're perfect gym bags, beach bags, and shopper bags, which makes them instant (and endlessly functional) best-sellers.
Tote bags are useful in a way that other merch items are not. They are versatile and can be used every day as a carryall. If you are considering the Kotn Natural Canvas Tote to sport your logo, remember that a tote bag can be used every day, unlike clothing items. That means your employees or customers will get more use out of just one item than they might get from several others. 
Any logo or design, big or small, will lay perfectly on the face of the canvas tote, but of course, merch is much more than wearing a logo. It's essentially an advertisement that gets put on display daily. 
With so many eyes on your merch, you want it to be high-quality like the items Kotn provides. We know you care about your work — and your merch deserves the same attention.
How It's Made
Raw cotton is harvested on Egyptian farms. From here, the cotton is taken in bails to yarn mills to be cleaned and coiled into ropes. These ropes are stretched and spun into the fine strands that become a Kotn tote bag or any other piece of clothing. 
Our Kotn Supply tote bags are all made from ethically sourced sustainable materials, so you can feel good about taking your custom Kotn Supply tote out on the town. The same goes for your coworkers and customers who can show off your merch proudly.
Bags by Your Own Design
A crossbody bag has nothing when held up against a tote bag. A tote bag is a nearly all-purpose carrier while also being arguably the most stylish bag you could wear. The handy top handle can also be used as a shoulder strap, helping your customers carry even a large tote bag with ease.
Imagine your favorite outfit. Maybe it's simple, or maybe it's stylish. Now ask yourself, could a tote bag be the missing piece to your ensemble? The answer is almost undoubtedly "yes." 
Shoulder bags couldn't possibly hold a candle to the subtle statement that a tote bag is. A tote bag elevates an outfit in a way that looks effortless. A simple t-shirt with some casual pants and a clean sneaker? Even the most basic outfits can be brought together with the right tote bag.
When you choose the Kotn Natural Canvas Tote, the options are endless. Imagine your business logo embroidered across the face of this large canvas tote handbag. It's iconic.
You can expect a four to five week turnaround if you decide to customize your tote bags. We know its important to get your designs right back to you without sacrificing sustainability or quality.
The warm earth tones of natural cotton complement nearly any color palette. No matter what colors you include in your design or logo, the soft white tone will be the perfect backdrop. That's why we chose cotton instead of creating a faux leather, jute, suede, or straw tote. 
Where Can We Use a Tote Bag?
Here is where the fun really starts: How will you use your tote bag? There are countless day-to-day functionalities of the simple, sustainable, and stylish tote bag.
Grocery Bag
Forget plastic grocery bags! Those flimsy single-use plastic shopping bags are even banned in some places, and the stylish shopper wouldn't want them anyway. 
Many times, the bag rips before you even make it home, meaning they're not the most functional option for your weekly shopping trip. A small tote can hold plenty of produce and other grocery items without disintegrating in front of you on the way to your front door.
Keep a mini tote in your car or even on a handle by your front door so that you never forget it when you head out for a grocery trip. They are much more sturdy than a plastic or even paper shopping bag, so you don't need to worry about anything tearing through the bottom of the bag.
Beach Tote
When you head to the beach, what is better than a tote bag? Having a designated carrier makes beach days a breeze. The perfect storage for all things beach-related: sunscreen, water bottle, a book, and your favorite sunnies.
The best part? Sand swipes right off the soft cotton material. 
Farmer's Market Bag
How much cuter can a trip to the farmer's market get? You know we're all about supporting local farmers, so the farmer's market might just be the best place to show off a Kotn tote bag. 
Fill your bag with local goodies like produce, baked goods, and handmade crafts. The overlap between style and functionality is at its peak at the farmer's market. Plus, you're supporting local farmers and reducing waste while you shop.
School Supplies
Backpacks have been the back-to-school standard for so long, but not everyone wants to wear them. While the norm is to pack your school supplies into a knapsack, a tote works just as well. It has a similar amount of storage capacity — not to mention plenty of style. Why not swap out your old backpack for a branded tote?
Whether it's college, high school, or anywhere in between, the Kotn tote bag is a great size for toting books and other supplies. Toss in your pencils, textbooks, or even a small laptop, and head to the library. 
Work Necessities
Beyond school supplies, a tote bag is the new business briefcase. Important folders and documents can be transported safely to the office. It's a modern and stylish alternative to the old stuffy briefcase that fits with business casual attire while adding a little something new.
Don't work in an office? More and more people are accepting jobs with the option to work remotely. This could mean working from home or even a coffee shop or coworking space. 
No matter where you choose to complete your workday, a Kotn tote bag is a fun accessory to transport your office anywhere you roam. It can fit your laptop, charger, headphones, snacks, and any other supplies you need to get through the day.
Travel Tote
Going for a quick jaunt to the city? Maybe a little weekend trip? Even if you need a duffel bag or a suitcase to carry your bigger items, pick up a small to medium tote bag. It might be just what you need to complete your trip!
A passport, wallet, keys, tickets, and other travel essentials can sit safely on your shoulder as you take a trip. A tote bag provides quick and easy accessibility to anything you need in transit — hand sanitizer after the bus ride, anyone?
Time to Tote
Once a tote bag comes into your life, you'll never go back to the little shoulder bag or fanny packs you once carried. Smaller than a backpack and larger than a handbag, the tote bag is the perfect size for a variety of purposes and occasions. 
The Kotn Natural Tote is a soft shade of white. It's a lovely earth-toned backdrop for your embroidered or screen-printed logo or design. Just add your logo, and you're ready for checkout.
Sources:
The Art of Color: Color Wheel & Color Relationships | Maryville
Cotton Fibre - an overview | ScienceDirect Topics