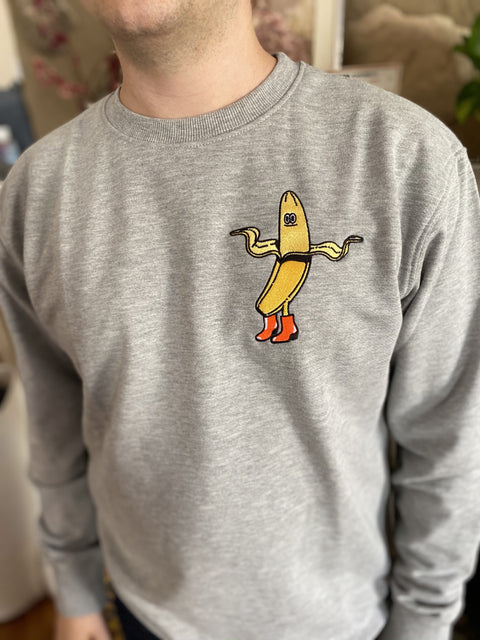 Custom Embroidered Sweatshirts: Wholesale Buyers Guide to Classic Styled Sweatshirts
Company swag should be more than a supplied uniform. 
When you think of company merchandise, you might think of employees wearing preppy polos or buttoned shirts with one solid color and a small logo printed on the chest. 
While there's nothing wrong with this, corporate fashion has evolved quite a bit. If you want your company to be more modernized, you need to offer a wide variety of company products that range from casual clothes that someone can wear out to water bottles they can bring to work and other places. 
Today, we're going to narrow our focus to sweatshirts. But before we get in too deep about embroidered sweatshirts, you first need to understand why having custom company swag is so important. 
Why Should I Order Company Swag?
Like we said earlier, there's nothing wrong with a uniform. However, having a rigid dress code can make the work atmosphere a little mundane. 
Strict uniforms are a thing of the past and can hurt company morale if your workforce is younger. Employees wearing the exact same thing can feel like everyone is back in junior high. 
So, if you want your company to become a tad more modern and keep your employees happy and free to mix and match in order to bring out their personal style, you absolutely have to offer company swag as an alternative to uniforms. 
Even if your company doesn't have uniforms in the first place, company swag is an excellent marketing tool that can bring employees together. 
Everyone should be proud of where they work, and nothing displays that pride like custom company swag items.
With all that being said, let's take a deeper look at why custom embroidered sweatshirts might be the king of company swag. 
Why an Embroidered Sweatshirt Is the Way To Go
We'll start with a simple answer: everyone on the planet wears sweatshirts. 
They're perfect for lounging around or wearing when the weather is a bit chilly. Sweatshirts are the ultimate casual wear — and most importantly, everyone will wear them. 
You could certainly make the argument that a T-shirt or a water bottle is the king of company swag, but sweatshirts go that extra mile by being more versatile and substantial. 
Not to mention, sweatshirts are obviously one of the bigger items in terms of company swag, meaning everything can be larger, mainly the logo. This helps with marketing and allows you to create a truly eye-popping design. 
Now, let's take a look at how you can go about designing and marketing your own company swag sweatshirts. 
Ideas for Embroidered Sweatshirts: From Their Uses to Designs
When it comes to embroidered sweatshirts, it can be extremely difficult to mess up. 
Even with a complex design or logo, you would have to actively try to make an embroidered sweatshirt look bad. You can also go the route of screen printing. 
Both make for an excellent company swag look, but embroidery can give anything, especially sweatshirts, a special type of flair that you won't find anywhere else. The stitching sewn right into the heavier fabric of the sweatshirt makes for a quality finish.
If you're confused about the difference between the two, embroidered designs and patterns are stitched into the sweatshirt while screen printing is simply printed onto the sweatshirt. 
Here's how you could go about designing or gifting your embroidered sweatshirts.
Company Merch
Every company should have merchandise with its logo or design on it available to purchase.
We've said it enough for you to know by now that it is a huge help with marketing and company morale. Obviously, you can't give every piece of company swag away for free, so you should always have an option for your employees to pick and choose. 
Sweatshirts are truly a staple of any clothing company or company swag pack. If you don't already, it's time to get an online store up and running for your employees to pick out their preferred style of sweatshirts or other company swag.
Company Gifts
You can't give everything away for free, but the occasional gift to your employees and customers every now and then is essential. 
If you give someone a free sweatshirt that looks cool, odds are they're going to wear it — we know we would. 
Sweatshirts are typically bigger and more expensive than things like water bottles and T-shirts, so a gift of this size would truly show that a company cares about its employees. 
Whether it's for a holiday, birthday, or for no reason at all, a custom embroidered sweatshirt is undoubtedly one of the best gifts you can give.
Included in Swag Bags
You can think of a company swag bag as a gift basket. 
Almost anything can be included, from keychains to gift cards. Throw in a custom embroidered sweatshirt and it's game over because you can't get much better than that. 
Company swag bags aren't a common thing for companies to offer and it's certainly a modern approach to boosting morale. You can get super creative to include all sorts of swag, but a sweatshirt would undoubtedly be the showstopper. 
Like we said before, you can't get much bigger than a sweatshirt, and including other smaller items with it only boosts their value and importance. 
A Blank Canvas
Now, in terms of the actual design, you quite literally have a blank canvas at your disposal. 
If you want to go the loud and proud route, one of our personal favorite designs for embroidery is a large centered logo in the middle of the sweatshirt with one solid color in the background. 
The bigger the logo, the more people will see it. The cooler the design, the more people will be intrigued. 
If you want to go with a more casual and sleek look, one popular idea is a smaller embroidered logo on the upper left or right side of the sweatshirt with the rest of the design blank with one solid color. Our team recommends about a 2.5-3 inch embroidery in this case.
While it's true this design won't allow more people to see the logo, it's more practical for employees with a minimalistic style. It's not that people aren't proud of their company — sometimes someone's style meshes closer with sweet and simple than loud and proud. 
It's important to note that these are simply ideas. The point of a blank canvas is to design what you feel is right, and that means something you know your employees will wear or buy to represent your company. 
How You Can Get Started
If you're ready to take that next step and truly make your company a modernized force, KOTN Supply is here to make that happen. 
We offer a wide range of products that will make your company swag true to you and your voice. We don't just offer products with a design — we let you take the wheel with the colors, design, and how you want it made. 
If you don't know where to start, we also offer additional help in the form of graphic designers to help you find out what you do and don't like. 
What Does a Typical Order Look Like?
Let's run through a quick scenario. 
You decide it's finally time to offer some sort of company swag for your employees. In this example, we'll use embroidered sweatshirts. 
You've looked at our catalog and decided that an embroidered sweatshirt is the best way to show your employees are valued and make for a great gift for all their hard work. 
Once this is decided, you would get into contact with a member of our team to start thinking about designs. If you already have one in mind, you can design the sweatshirt yourself — it's a blank canvas! 
If you have zero clue where to start, no worries; we can provide guidance to help you come up with ideas and recommend what we see works best.
After the design is all figured out, it's time to order! With a minimum order of 100 units, you certainly will have enough merchandise to keep the swag flowing. 
After about 4-5 weeks, your products will arrive ready to distribute to your dedicated employees. 
We make the process as simple as possible and cater to your needs, not the other way around. 
How Our Products Are Made
All KOTN Supply merchandise is ethically sourced from the Nile Delta and made with 100% Egyptian cotton. 
All of our products are completely traceable from the farm to the hanger and all the way to your front porch. Company swag is important, but it shouldn't come at the cost of the environment. 
Conclusion
Our products will never be delegated to that one shirt you wear before bed or something you'll never put on again. We are ending the era of throwaway merch for good, one high-quality piece of swag at a time.
Sources:
What is Swag Management (and Why You Should Even Care) | LinkedIn
What Is Grassroots Marketing? Definition, Benefits, Examples, and Tips | Indeed
Why Choosing the Right Company Swag Is Important for Your Brand | The Social Media Butterfly